Benefits of family cooking
Making meals together not only creates memories, it also encourages better connection and wellbeing. According to the Academy of Nutrition and Dietetics, family meals allow parents or guardians to create a supportive and loving environment that promotes more healthy nutrition habits. Studies suggest that children of families who regularly cook and eat together have higher intakes of fruits and vegetables, better relationships with food, and are less likely to have behavioral issues (1). 
Making meals together can also celebrate cultural heritage and strengthen and inspire your family's commitment to a healthy lifestyle. Allowing your child to cook can help them get used to new and unfamiliar foods, encouraging them to try new things. It also improves intelligence by means of math for measurements and provides an opportunity to teach them about different foods and the impact on the environment (2). 
Have a busy schedule and not sure how you'll find time to prep and cook? Try these simple meal prep methods. 
Recipe: Sheet Pan Chicken Fajitas 
It's time to get festive! Have a fiesta with the family, making these easy yet delicious sheet pan chicken fajitas. Prefer to be guided by video? Check out this interactive video featuring our very own in house chef and nutritionist: Quick & Easy Sheet Pan Chicken Fajita Recipe | Lifesum Sheet Pan Series.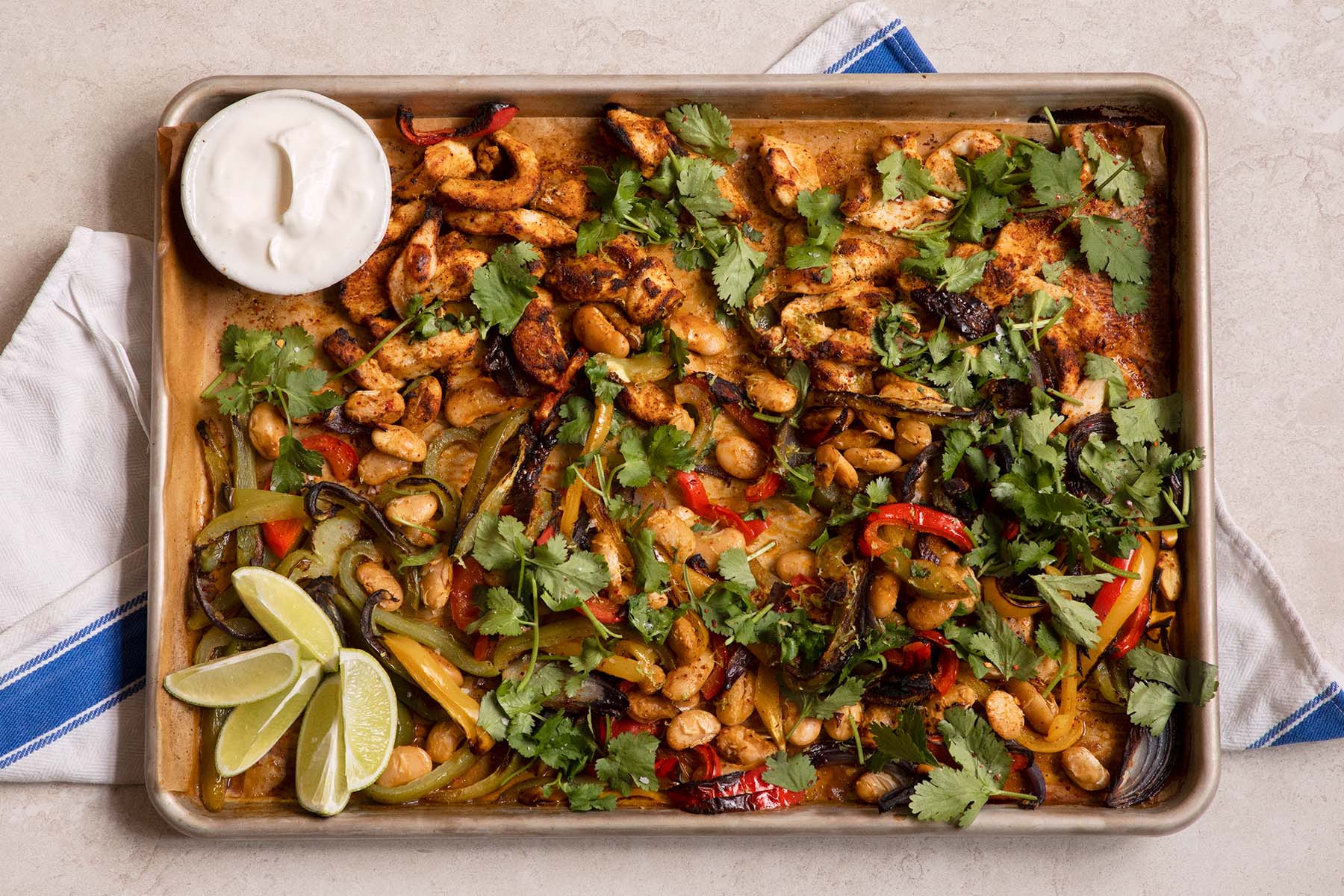 Recipe 
40 mins | 556 Cal
INGREDIENTS (4 servings)
21.2 oz / 600 g chicken breast

2 cups / 240 g canned large white beans

4 tbsp taco seasoning

2 tbsp olive oil

1 lime, zest and juice

1 medium-sized red onion, sliced 

1 red bell pepper, sliced thin

1 yellow bell pepper, sliced 

1 green bell pepper, sliced 

8 small flour tortillas, warmed, optional 

1 cup / 40 g cilantro 

½ cup / 120 ml sour cream 
INSTRUCTIONS 
Preheat oven to 425℉ / 220℃

Line a large baking sheet with parchment paper

Slice the chicken, bell peppers, and red onion. Add the lined baking sheet along with the rinsed beans. 

In a bowl, add the taco seasoning, olive oil, and lime juice and zest, drizzle the marinade on top of the chicken and the vegetables and toss. 

Bake for 20 minutes, or until meat is cooked through. 

Add some char to meat and veggies, and set the oven on broil and cook for another 5 minutes. 

Serve with warm tortillas, cilantro, and sour cream.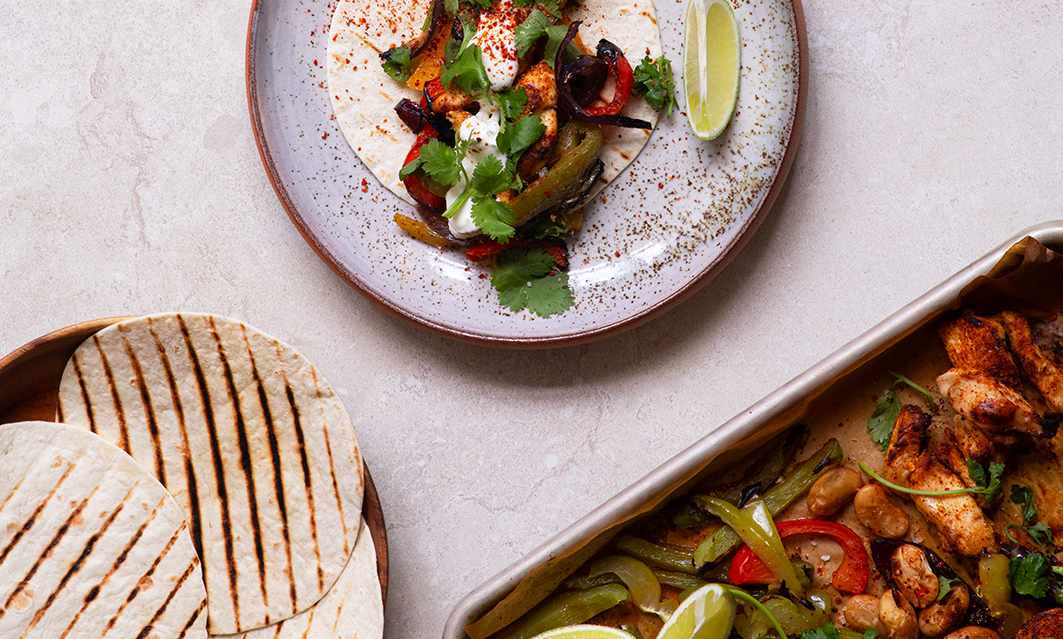 Sheet pan chicken fajitas swaps
The nature of fajita or other Mexican themed meals are that they are highly adaptable, meeting most dietary requirements or personal preferences. So let's take a look at how you can swap out of the fajita ingredients to make it work for the whole family.
Protein
These fajitas feature chicken but you can easily swap out different types of animal meats such as beef, pork, fish, or shrimp. Just make sure to cook them all the way through. You can also make it plant-based by swapping out tofu just using beans like black or pinto.
Vegetables 
Not everyone is a fan of vegetables like bell peppers and onions. Fajita can be easily made with some alternative grilled vegetables like zucchini or tomatoes. You can also add in some fresh vegetables in the form of homemade salsa or chopped greens like lettuce. 
Tortilla 
If someone in your family is gluten-free or looking to limit carbohydrates such as with a keto diet, it can complicate mealtime. Thankfully this recipe can easily be adapted to meet personal carb needs. To avoid gluten, swap out the flour tortillas for 100% corn versions. For the low carb crew, simply omit the tortillas or use a large lettuce leaf as a tortilla instead.  
Seasonings 
With about 3-21% of the population disliking cilantro, oftentimes describing it as a "soapy" taste, this can be a challenge when it comes to making Mexican dishes fajitas (3). If your kids are sensitive to spicy foods or if you're trying to reduce your sodium intake, there are many seasonings swaps such as:
Spicy pepper for paprika 

Cilantro for parsley 

Salt for garlic powder 

Want to make even more mealtime memories with your family? Get inspired with healthy, nutritionist-approved recipes from the Lifesum app.