Time for a game of hot (sweet) potato.
—
When I think back to the way vegetables were presented to me as a kid, I understand why most kids don't like them.
Just boiled or just steamed, we were given watered down, tasteless food, and then our parents wondered why we didn't want to eat it. Really? (Sorry mom).
Thankfully, since then, a lot has changed.
Much due to the hard work and graft of farm to table chefs, dedicated farmers, higher demand from vegetarians and vegans, and #foodiesofinstagaram, it's now possible to cook a vegetable and love it.
I thought I'd share five cool ways to eat sweet potatoes.
—
Fried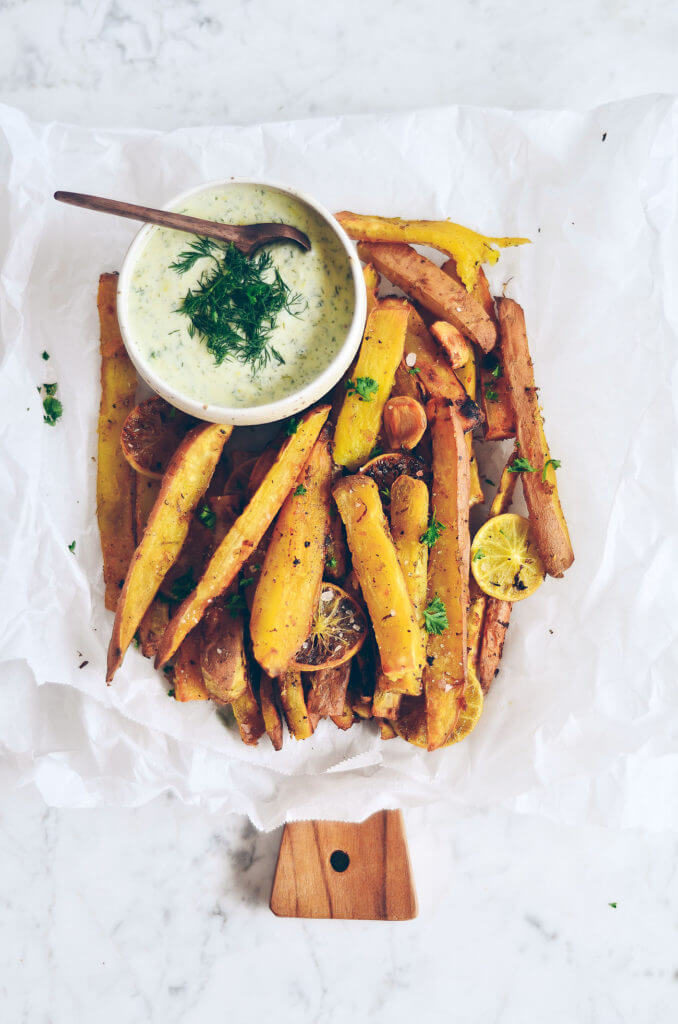 Sweet potato fries from Kaylie of Paleo Gluten Free Eats
I feel like this is most people's go-to option. And I totally get it. I mean, who doesn't like fries? But here's my advice. Don't skimp on the fries. Don't go for the bare minimum. Make sweet potato fries packed with zesty flavor and super crispy. Once you've had them once, it'll be pretty difficult not to have them again. and again, and again. Recipe here.
—
Stuffed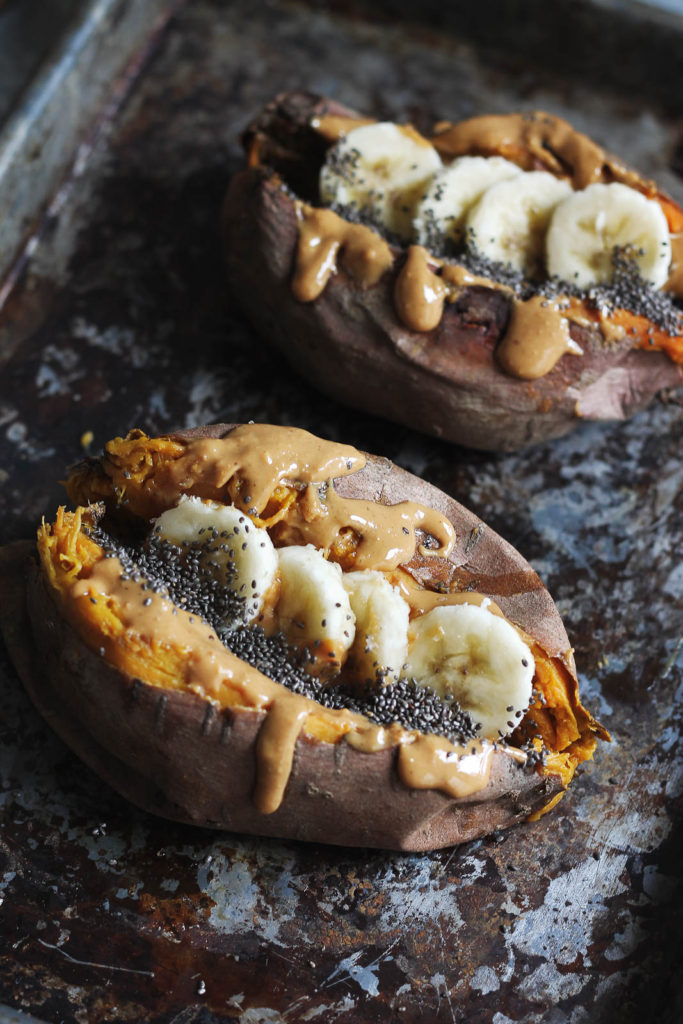 Stuffed sweet potatoes from Monique of Ambitious Kitchen
If you google stuffed sweet potato, most recipes are savory, featuring black beans or chicken. Those are great but I thought I'd mix it up a little. I have a sweet tooth, and sweet potatoes are naturally sweet (hence the name), which makes them the perfect base for a sweet treat. Sweet potato ice-cream, sweet potato toast, sweet potato pancakes, sweet potato pie… the list is endless. Then I found this recipe. Sweet potatoes stuffed with banana, almond butter, and chia seeds. De-freaking-licious. Recipe here.
—
Chipped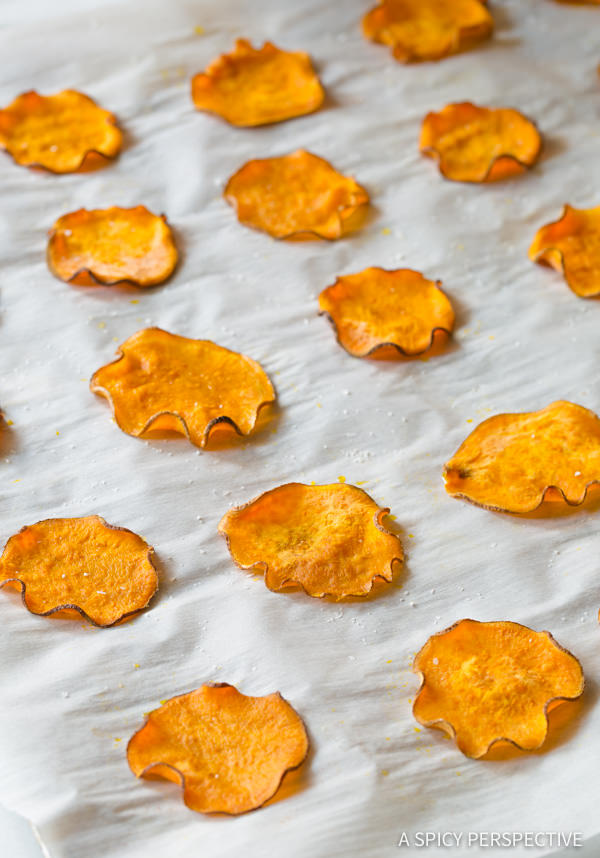 Baked sweet potato chips from Sommer of A Spicy Perspective
I love chips, and if they're a nice corn based chip, they're not that bad. The problem is just how addictive they are. I've never met a person who's said 'I'll just take one chip, perfect. No, I don't want anymore.' When you make your own chips, you control exactly what goes into them, and there's a limit to how many are available. These only contain 3 ingredients, and crisp up perfectly. Here's the recipe.
—
Spiralized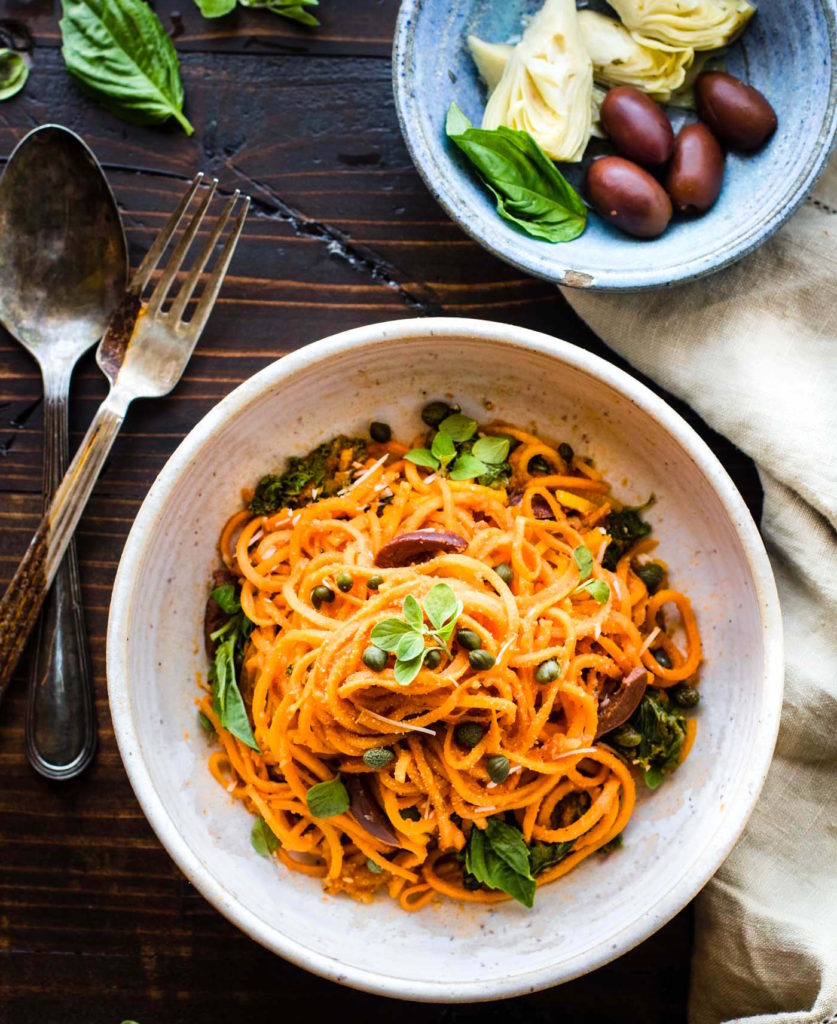 Spiralized sweet potato from Lindsay of Cotter Crunch
You can spiralize almost anything, why not spiralize sweet potato? If you really love pasta but you want something a little more low-carb, this is the dream. All you need is a nice creamy sauce to accompany it, and voila – meal made. I love the simplicity of this. Get the recipe here.
—
Burgered

Sweet Potato Burgers from Phoebe of Feed Me Phoebe
While I love a good black bean burger, this is my kind of burger. A sweet potato patty? YES PLEASE. Phoebe combines sweet potatoes and cauliflower for a slightly sticky, slightly sweet burger, and it is. well, it's fantastic. Make it yourself. Recipe here.
—
/Femi, The Girl Who Hates Working Out
—
RELATED: Don't Be Afraid of Carbs (continued) with Joselynne Boschen